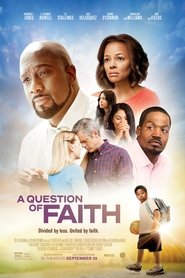 A Question of Faith
Divided by loss. United by faith.
Pastor DAVID NEWMAN is a loving husband and father, set to take over his father's church while neglecting the promises he's made to his twelve year old son, ERIC. KATE HERNANDEZ is a spiritually driven single-parent and owner of a local restaurant. Her daughter MARIA is a free spirited teenager aspiring to be the first in her family to go to college. JOHN DANIELSON is the owner of a failing construction company, who sees his daughter MICHELLE's fledgling singing career as a way out of financial trouble.The lives of these strangers collide when two twists of fate strike back to back. The first: while texting and driving in her car, Maria accidentally hits Eric, which lands Maria in jail and leaves Eric's family in an unthinkable dilemma. The second: while auditioning for a major record label, Michelle collapses, leading to a discovery about her health which rocks the very foundation of her father's dream. All three families find themselves at a crossroads, questioning their faith and …
Duration: 104 min
Release: 2017
You must be logged-in to see the download links.