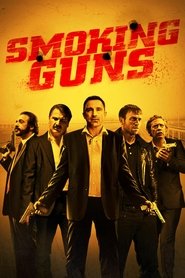 Smoking Guns
A crime drama movie, Smoking Guns, is about some serial gambler who is on run to get his hands on the big windfall. It is a British crime film directed and written by Savvas D. Michael. The entire plot of the movie takes place in a single room kind of setting. Despite being a crime movie, there is very little action in the movie which is a little bit off point of the movie since people who loves crime genre expect to have more than just tad bit of action in a movie. However this movie Smoking Gun has a touch of rumor in it which is rare to see in crime genre movie.
The story starts with three friends spending their Friday afternoon at some bookie. They all are high on big talk and low on chances but they do believe in aiming big. Jack, played by Tommy O'Neill, is leading them, who is a steady bettor. Jack has something on his mind and wants to go out of the usual race of the weekly paychecks. Trying to get his hands on something big, he bets £250 on some horse to win treble. Despite having odds against him, he places this bets in hope that if the horse wins all of its three races, Jack will win a big fortune out of it. This film is a drama based crime, however, there is little to no drama that grabs the attention of the viewers. There are certain plot holes in the story that cannot be ignored. However, the director has done a decent job to cover these plot holes. The movie might be little bit off for the viewers who are not fan of characters coming by and going. However, if you are someone who likes black comedies then it might entertain at length.
The story continues with Jack along his pals, Yiannis, played by Andreas Karras, Ian, played by Jamie Crew and some older guy, trying his luck. Jack's luck trumps all the odds against him and he goes on wining the first two races. Crazy happy with winning first two races, Jack cannot see what is coming towards him. The news of winning does not go unnoticed among the big names of this game. There is a threat and sometimes a price to pay when it comes to such win. Once the news spread, some seedy fellows are curious to know what's happening. They are curious enough to tip these winning into their way. The scary part is that they don't even care what means it takes to reach their goals. There are some very interesting twists and turns in the movie. The story shows how luck can beat all your odds and bring something out of blues.
The humor side of the movie is what keeps the viewers engaged. It is not a typical gambling movie where the gamblers are the underworld mafia, playing tough. The light humor, good direction and interesting storyline make this movie worth watching.
Duration: 93 min
Release: 2016
You must be logged-in to see the download links.